Due to the growing interest in starting an educational app development company as well as the use of these apps, entrepreneurs have been encouraged to start their businesses. A larger slice of the global edtech market awaits them if they launch the next BYJU, Duolingo, or Udemy. We will discuss the reasons why edtech startups fail if you are an entrepreneur considering entering the edtech industry but are confused upon realizing this fact. Our goal is also to help you prevent startup failures in the edtech industry by sharing our knowledge and experience.
Here, we focus on the top reasons for the failure while building an educational app startup.
Create an educational app: 7 mistakes to avoid
The failure to build an educational app startup can be attributed to a variety of reasons, but we will discuss 7 of the most prominent ones in this section. Let's look at each of them individually.
1. A lack of market research
Innovative opportunities are available in education. There are some that are 'must-required', but not all. The current time does not allow us to adopt some of those ideas. Without proper market research, competitive analysis, or homework, startups entering the educational industry are unable to distinguish between "must-required" and "fancy" app ideas and eventually fail. Education app development agency startups often fail because of this.
2. An inability to be patient
Edtech's growth is extremely slow compared to other business domains. After establishing a company, most companies see significant growth only after five to ten years, which is uninspiring. The rapid growth in the learning app market is disturbing for both entrepreneurs and investors. Additionally, investors and venture capitalists tend to be impatient and bail out of their ventures before they see any return on investment.
3. Consumers and customers are not clearly distinguished
Mobile app promotion teams should be commended for finding out that many users download applications in order to test out features and understand proof of concepts. It is important to note, however, that a very small percentage of those who attempt to sign up for this service actually do so.
The dynamic edtech market makes it unsustainable for fast-growing educational app development companies to generate sufficient revenue even after they have 10,000 users.
4. Unnecessary technological development
Since technologies are having a significant impact on EdTech, many entrepreneurs have implemented AI, AR, IoT, machine learning, blockchains, and other technologies into their apps.
Nevertheless, many don't consider the consumer's benefits or the pain points they address. To put it another way, they should be thinking of how they might be able to engage the target audience, increase sales, or contribute to the core app concept. As a result, app development costs are on the rise, and users are confused, which eventually results in failed startups.
5. Collaboration between instructors and lack of transparency
Most of them face this problem while creating an educational app that fails in the marketplace because they lack transparency and collaboration with instructors. The goal of these startups is to replace teachers and other parts of the existing educational system. Due to this, neither they nor teachers nor others are allowed to know what their working module is. The lack of interest in the adoption and usage of these education apps (or software) eventually results in failure in educational institutions.
6. A lot of features in an app
Business leaders in education often create highly complex applications by adding so many features to their education software development plans. Ultimately, this results in a lower user experience, a greater chance of failure, and distraction of the user from the core purpose of the application.
7. A lack of training for users
The edtech market is undergoing new levels of competition as mobile apps become the future of education. This leads to entrepreneurs investing in educational software development so quickly that they ignore entirely whether the products (or features) will be useful to the users.
Their mobile applications are not accompanied by user manuals or other training elements to assist users. As a result, they lose the market and are not able to retain their target audience.
Now that you understand what can lead to innovative ideas going awry, edtech startups no longer make the top 100. Your education startup ideas are likely to have been rethought by now.
That's not exactly true.
Instead of abandoning the education startup ideas altogether, it is important to learn how to prevent such failures and create a different history for your edtech business.
Let's get started.
Ways to Overcome Failure when Building an Educational App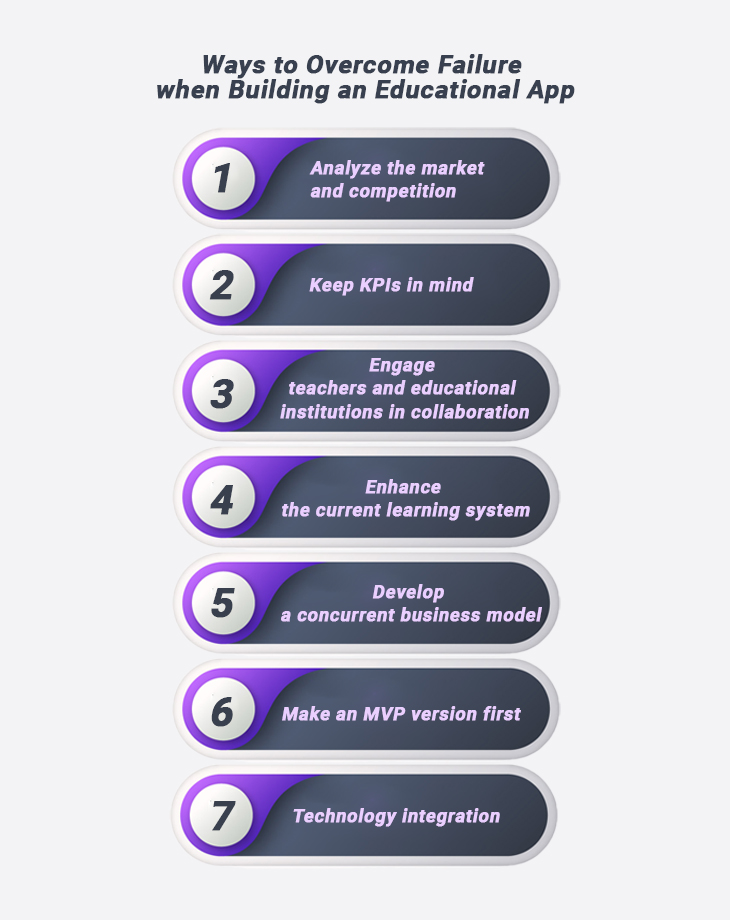 Follow some of the ways discussed below to make sure your edtech startup makes it to the market and also makes it on top of the list of leading edtech companies.
1. Analyze the market and competition
Entrepreneurs who fail to understand market needs and competitors' offerings are likely to fail in education startups, as we discussed earlier. Therefore, understanding the needs and desires of your target user base is the first step to lowering the risk of app failure.
Alternatively, your target audience must be aware of what challenges they face, what edtech apps they are using, and where they are lacking. By doing this, you will be able to meet your educational and learning goals.
2. Keep KPIs in mind
It has been noted that many applications achieve higher download numbers but fail to convert those visitors into subscribers. You may not want to use downloads as your primary criteria for determining how successful your e-learning application is in such a scenario.
The success ratio of an edtech startup can be maximized by evaluating different mobile app KPIs.
3. Engage teachers and educational institutions in collaboration
Before you considered hiring an education app development company or starting your own company, the traditional learning system existed.
A well-trained executive understands the history of the market, its challenges, and opportunities, as well as the future of technology and innovation.
A great decision would nevertheless be to enlist their aid in making your educational mobile app more useful, secure, and successful in a scenario such as this.
It's essential to integrate unique features into an on-demand tutor app if you want it to stand out from the competition.
So, keep an eye out.
Get to know what students expect, how classroom technology changes the learning process, and how teachers use it. Likewise, you can consult an investor or company that has experience working on a variety of learning app types.
4. Enhance the current learning system
Another way to prevent edtech startup failure is to consider your idea as part of the existing environment rather than as an alternative. Don't be ambiguous.
Consider how the existing learning management system poses challenges and what can be done to resolve them. Those involved in the traditional ecosystem will be more likely to adopt and refer to your technological innovation solution. Marketing-wise, it will help to target a wider audience without investing a lot of time and effort.
5. Develop a concurrent business model
Despite its popularity, the Learning app development market is quite slow regarding revenue generation. Thus, you should choose a business model that allows you to remain competitive until you start making money from your app.
To make your business successful, you can use four different monetization strategies –
Freemium – This monetization strategy is one of the most beloved because it makes free apps profitable. Mobile applications under this model are free to download and use. In order to unlock some new features and get a better experience, you have to pay some money.
Pay-As-You-Go – An edtech app's pay-per-use service works on the premise that users only pay for the time they spend using it.
Using subscriptions – An edtech startup like Coursera uses subscription markets for their products and services, charging for access weekly, monthly, and annually.
Business Development – Education startups consider Business Development when their product requires more training, integration, and customer service.
6. Make an MVP version first
It will not only add to the educational app development agency's costs but also affect the rate at which users acquire and retain the education application. As there are many more competitors arising every minute in the market, it will be harder to win the hearts of the audience.
It is best to invest in the concept of Minimum Viable Product (MVP) in such a situation in order to realize higher benefits and cut down losses. As such, your edtech mobile app should have the least functional features and technologies to enable you to enter the market as quickly as possible, save development time and cost, validate your MVP idea, etc.
7. Technology integration
Although it may be a mistake to integrate multiple technologies aimlessly into your edtech application, it is not impossible to implement cutting-edge technology.
Contact the educational app development company, in this case, to determine which technology is ideal for your education app project in order to benefit from state-of-the-art technologies and tools.
Conclusion
We have a wide range of experience in developing educational apps that utilize the latest learning techniques such as gamification, social learning, blended learning, and interactivity which has been proven to be highly successful. Depending on your unique needs in learning and development, we can also create a customized app for you.